Wholesale Privatelabel AHA 30% + BHA 2% Peeling Exfoliators
Peeling skin aging dead skin cells, brightening and even skin color, salicylic acid can deep clean pores, remove acne, dissipate old acne scar or dark skin. Make your skin more delicate, silky, and purify your skin, brighter and white, with even skin text
Description
Why exfoliate?
Our skin naturally removes dead cells every day, but this shedding process slows down over time (mainly due to age and unprotected skin being exposed to sunlight) and may stop completely. Causes include dark, dry or flaky skin; clogged, large pores; bad skin problems such as pimples, wrinkles, tightness and uneven skin tone.
AHA (alpha hydroxy acids), and BHA are used to "open" the surface of the dark dead skin. Once these adhesives are gently and evenly broken, the skin will shed naturally. So, while you won't really see your skin exfoliating, you'll soon see a smoother, younger skin hidden underneath.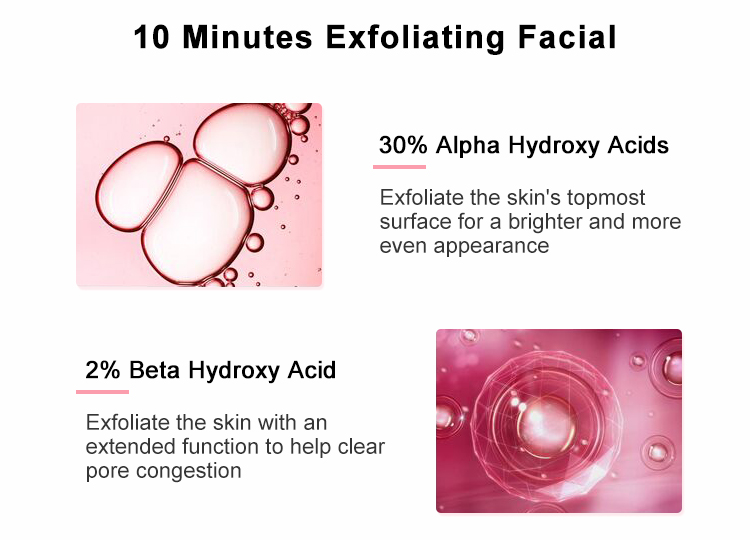 superiority
1。 Reduce visible fine lines and wrinkles
2。 Make skin look tighter
3。 Replenish water and dredge pores.
4。 Improve the appearance of dark, uneven complexion
5。 Smoothing the rough texture of the skin
6。 Repair pigment deposits caused by acne and acne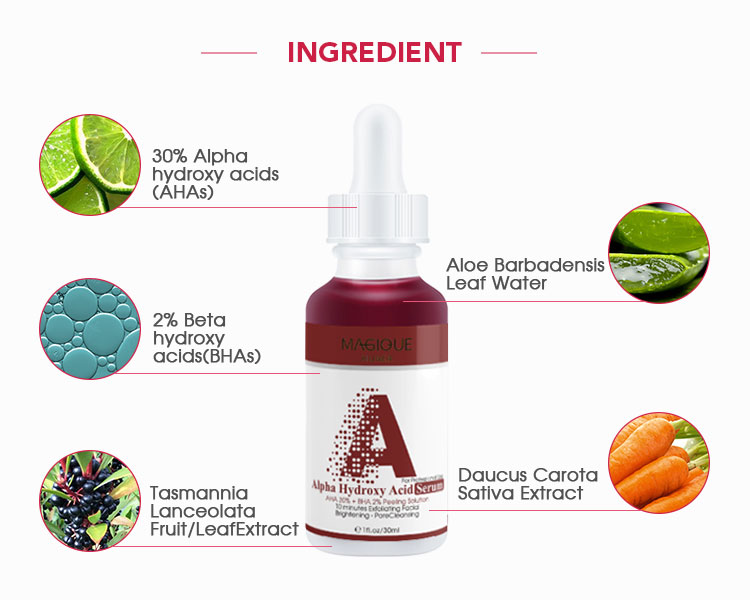 Wholesale matters needing attention
| | |
| --- | --- |
| products | AHA 30% + BHA 2% Peeling Exfoliators |
| Volume | 30ML |
| Ingredients | Alpha hydroxy acids(AHA), Beta hydroxy acids(BHA), Glycolic Acid, Aqua (Water), Aloe Barbadensis Leaf Water, Daucus Carota SativaExtract, Salicylic Acid, Lactic Acid, Tartaric Acid, Citric Acid, Tasmannia Lanceolata Fruit/Leaf Extract, Glycerin |
| Certification | MSDS, GMP |
| Supply Type | OEM/ODM |
| Brand Name | Luxsimel/ Magique Huaer/ Private Label |
| Skin Type | Normal, Combination, and Oily |
| MOQ | 1000 bottles |
For product specifications and prices, welcome to inquiry