Wholesales& Private Branding Bubble Dead Sea Deeply Cleaning Salt Scrub Exfoliating Body Scrub
Smoothie texture, can gently remove deep skin dirt, remove dead skin, and rejuvenate the skin. Add nutrients to the formula to make the skin soft, silky, and glowing.
Description
1.Israel Dead Sea Salt
Dead sea salt, salt concentration is 6 times that of the general ocean, contains very rich minerals and trace elements, As natural bath salts, it remarkably soften horniness and remove dead skin and skin dirt.
2.2% Niacinamide
Niacinamide can accelerate metabolism and accelerate the exfoliation of keratin containing melanocytes. Nicotinamide has a small molecular weight and can be directly absorbed by epidermal cells, stimulating some of the decayed cell vitality, promoting collagen synthesis, preventing melanin from being excessively deposited, and achieving whitening effect. Remarkably improves dullness, whiten and brighten skin.
3.Opuntia Dillenii Extract imported from Italy, Salvia Japonica Extract, Hamamelis Virginiana (Witch Hazel) Extract
Calms skin and repairs sensitive skin. Anti-inflammation, oil control, sun protection. Anti-oxidant, anti-aging, increasing skin metabolism, These natural extracts infuse nutrition and vitality into the skin, making the skin more soothing.
4.Small molecule hyaluronic acid
moisturize and hydrates skin for 24 hours
5.Natural moisturizing factor MNF (allantoin)
Low sensitivity, repair skin and gently improve chicken skin.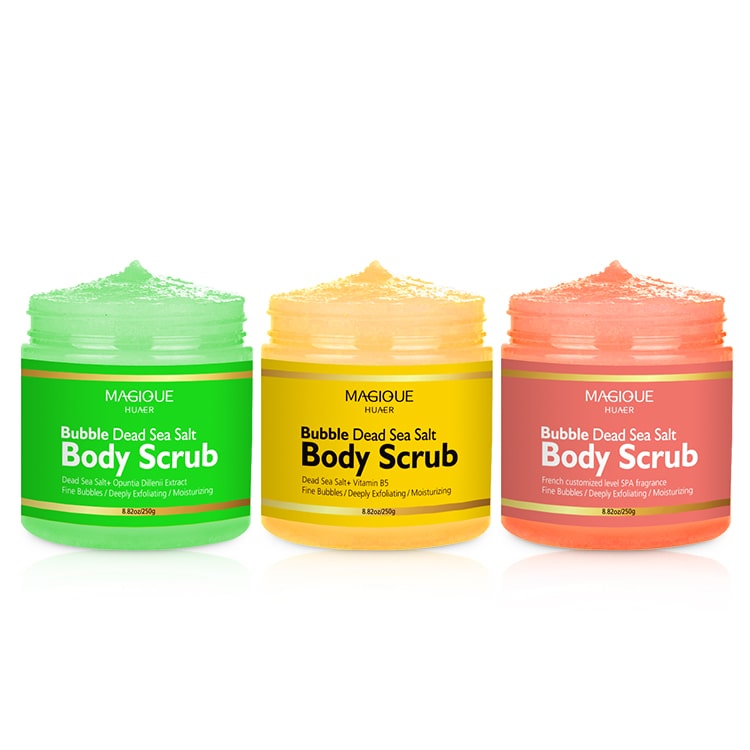 Ingredients:
Water, Maris Sal, Glycerin, Sodium Lauroyl Oat Amino Acids, Sodium Cocoyl Glycinate, Glycerin, Peg-7 Glyceryl Cocoate, Opuntia Dillenii Extrect, Salvia Japonica Extract, Hamamelis Virginiana (Witch Hazel) Extract, Niacinamide, Ceramide 3, Allantoin, Citrus Aurantium Dulcis (Orange) Oil, Sodium Hyaluronate, Dipotassium Glycyrrhizate, Citric Acid.
Directions: Dispense scrub onto fingertips and massage onto damp skin. Spread in small circular motions to wake your skin's natural circulation. When you are done, rinse thoroughly. For best results, use 1-2 times a week.
Cautions: For external use only. Keep out reach of children.
If skin irritation occurs, stop use immediately.
Fragrance, texture, formula, package can be adjusted according to your requests, together with
professional suggestions from our engineers as well. Careful selection of materials and completing formula is based on their individual characteristics and benefits as well as their ability to blend together for your unique preference and skincare needs.
We pay attention to every details and make the products to satisfy you and your market.
For product specifications and prices, welcome to inquiry