Amino Acid Deep Cleansing Aloe Vera Facial Foam Cleanser
1.With plenty of fine bubbles and fresh rose fragrance.
2.No drying discomfort after wash. Skin feels refreshed and smooth.
3.Mild formula; Suit for all skin types
Description
Amino acids are the basic substances that make up proteins. Amino acid facial cleansers use weakly acidic amino acid surfactants. The PH value is very similar to the PH value of the human body. Its characteristics are that it is not irritating to the skin and is very gentle while cleaning efficiently, so men and women , Old and young, pregnant women, infants and children with sensitive skin, it can be used and is very safe for long-term use.
There is a layer of natural moisturizing factor on the face. If improperly cleansed and the selected care products are not suitable, this part of the natural moisturizing factor will be destroyed and the face will dry out after washing. Amino acid facial cleansing products can lock the facial moisture, and the skin will not feel dry or tight after washing.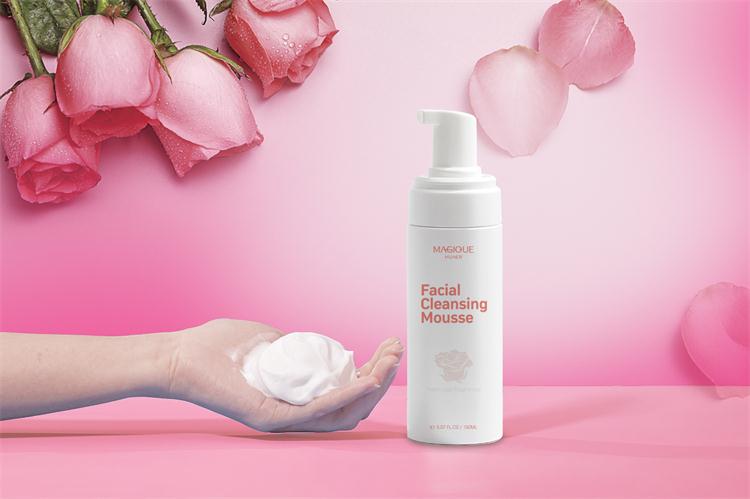 Sodium Lauroyl Sarcosinate, Sodium Lauroyl Glutamate Amino acid surfactant, PH value is close to human skin, plus amino acid is the basic substance that constitutes protein, so it is gentle on the skin, not only suitable for people with acne skin, but also for cleansing of sensitive skin product.
Aloe Barbadensis Leaf Juice nutritional active ingredients help to change the composition of sebum, reduce shine and increase the skin's suppleness; it also has antibacterial, anti-inflammatory and moisturizing effects
INGREDIENTS
Water, Sodium Lauroyl Sarcosinate, Glycerin, Sodium Lauroyl Glutamate, Aloe Barbadensis Leaf Juice, Centella Asiatica Extract, Disodium Laureth Sulfosuccinate, Cocamidopropyl Betaine, Peg-12 Dimethicone, Betaine, Peg-40 Hydrogenated Castor Oil, Aroma, Sodium Chloride.
For product specifications and prices, welcome to inquiry