Hyaluronic Acid Hydrating Sheet Mask
Intensively Hydrating, banlancing oil and water.
Solving the skin problems caused by dryness and dehydration, like coarse and dull skin.
Description
Mild, safe and effective formula:
a. Adopting patened hydrating ingredients and patented anti-allergy ingredients.
b. Rich in herbal essence
c. Scienfic formula design:hyaluronic acid & xylitol intensively hydrating.
d. Addictive-free preservitives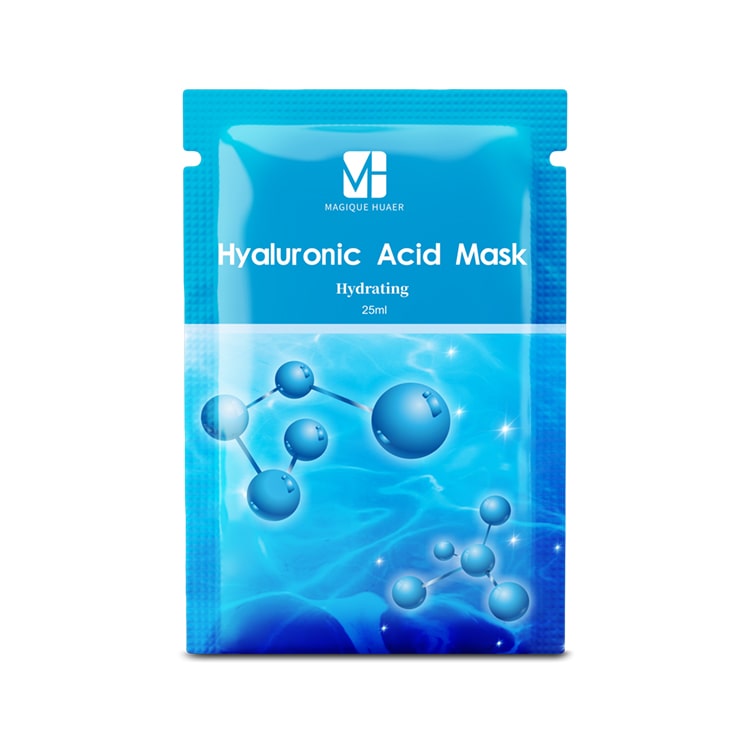 Ingredient:
AQUA、PROPYLENE GLYCOL、BETAINE、GLYCERIN、BETA-GLUCAN、PANTHENOL、BUTYLENE GLYCOL、XYLITYLGLUCOSIDE、SODIUM HYALURONATE、GLYCINE
SOJA (SOYBEAN) SEED EXTRACT、ANHYDROXYLITOL、XYLITOL、GLUCOSE、HYDROXYPHENYL PROPAMIDOBENZOIC ACID、ASCORBYL PALMITATE、
HYDROXYETHYLCELLULOSE、DISODIUM EDTA、CARBOMER、XANTHAN GUM、ALLANTOIN、1,2-HEXANEDIOL、ETHYLHEXYLGLYCERIN、GLYCERYL CAPRYLATE、
PENTYLENE GLYCOL、HYDROXYACETOPHENONE、CAPRYLHYDROXAMIC ACID、PEG-40 HYDROGENATED CASTOR OIL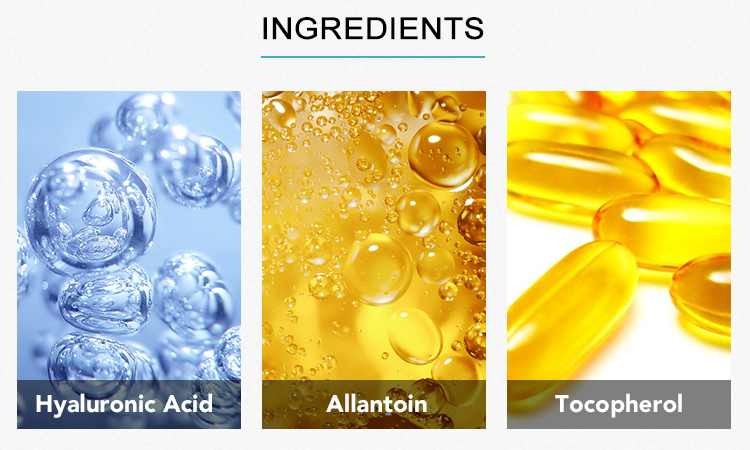 1. Active ingredients:
Betaine: It has excellent moisturizing and cell protection effects, can reduce irritation, improve skin discomfort, and relieve anti-allergy
β-Glucan: 1) Effectively scavenge free radicals in the body, thereby protecting macrophages from free radical attack, with antioxidant effects; 2) Control cell division and differentiation, regulate cell growth, delay skin anti-aging; 3) Enhances the synthesis of collagen and elastin protein in the dermis
Strengthen, reduce wrinkles and fine lines, enhance skin resistance.
Panthenol: Provitamin B5, improves skin tolerance and enhances skin hydration; repairs tissue damage, reduces skin inflammation, improves dryness, and reduces skin discomfort
Xylitol: increase the moisture content of epidermis and dermis, promote ceramide synthesis, strengthen skin barrier, improve skin structure, reduce water loss, increase skin elasticity
Deminshu (butanediol, 1,2-pentanediol, hydroxyphenylpropionamide benzoic acid): highly effective anti-irritation, effectively alleviate symptoms such as itching, redness, blisters, etc., reduce inflammation, and have antihistamine activity and Oxidative activity can reduce skin damage caused by active oxygen groups.
Sodium hyaluronate: locks a lot of water molecules, quickly hydrates, increases skin elasticity; soothes the skin, promotes healing and relieves skin discomfort
Wild soybean seed extract: Promote the growth of fiber bud cells, activate skin, improve skin moisture and elasticity, delay skin aging.
Allantoin: helps the skin to fight inflammation, soothe and promote cell repair; it can reduce the adhesion of stratum corneum cells and accelerate the regeneration of epidermal cells
Ascorbyl palmitate: VC derivative, which has all the activities of VC, anti-inflammatory, reduces melanin production, promotes collagen synthesis, prevents and treats pigmentation caused by trauma, sunburn, acne, etc., can whiten skin and maintain skin elasticity
Reduces wrinkles, improves skin paleness and relaxation, delays skin's natural aging and photoaging, is an efficient antioxidant and oxygen free radical scavenger
For product specifications and prices, welcome to inquiry