Jade Roller And Gua Sha Set Facial Roller And Gua Sha Set
Okay, if you want a super-cute jade roller but you're still kinda a newb when it comes to the trend, you need this pick ASAP. Not only is it visually pleasing AF
Description
This 2-in-1 kit is amaze if you don't want to choose between a jade roller and a guasha. You'll get allll the benefits of both tools for a super-reasonable price, and the option to switch up your face massage routine depending on the vibe you're feeling.
All the facial contouring you could ever need, all provided in a two-for-one gua sha and facial roller kit. With two tools in your arsenal, get ready for brighter, plumper skin
Jade is an excellent healing stone. It is filled with revitalizing energythat can speed up healing or promote good overall health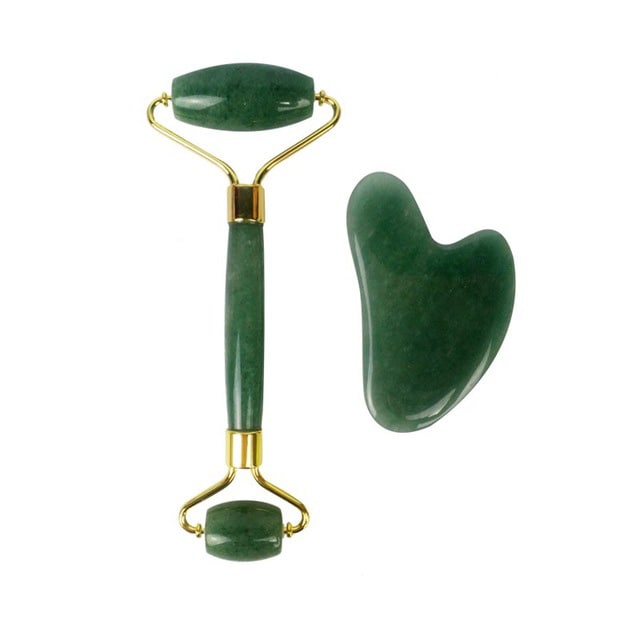 How to use jade roller
1.jade roller is a double-ended jade roller suitable for different parts of body.The small roller is mainly for eye area. The large roller is for cheeks, neck, chin and forehead.
2.Forehead - Move organic jade roller from the center of the forehead beginning at the hairline, rolling towards the ear, down to the temple.
3.Cheek, Neck,Chin - Roll the raw jade roller in an up and out motion from the neck toward the cheek. Massage on the face, from bottom to top, along the direction of skin growth
4.Eyes - Move from the inner corner of the eye area to the ear
How to use Gua Sha Tools
1. Chill gua sha board in Freezer
2. Wash your face with cleaning product
3. Apply essential oil or serum on your face
4. Run the flat side of the board under one cheekbone, from the corner of your mouth toward your ear. Repeat on the other side
5. Practice this 1-2 times per weeks for refreshed and revitalized skin
For product specifications and prices, welcome to inquiry

For product specifications and prices, welcome to inquiry