Manufacturer best Soften and smooth skin pro acne Skin Care vitamin a retinol anti wrinkle aging hydrating serum
Professional manufacturer supply skin care products, our best anti aging serum,which is also called retinol vitamin a serum can effectively relieve wrinkles and acne, prevent skin aging.
At the same time, the natural extract of luxsimel retinol serum can
Description
Skin is the largest organ of human tissue to protect other organs of our body in the external environment, and it is also the first line of defense against external aggression. The skin has a complex structure and cell tissue, which generally divides the skin into three types of tissue. Epidermis, dermis, subcutaneous tissue. The subcutaneous tissue consists of fat cells that underline the connective tissue network and subcutaneous tissue directly affect the tissue form of epidermis and dermis. Type I collagen is the most abundant protein in the skin connective tissue.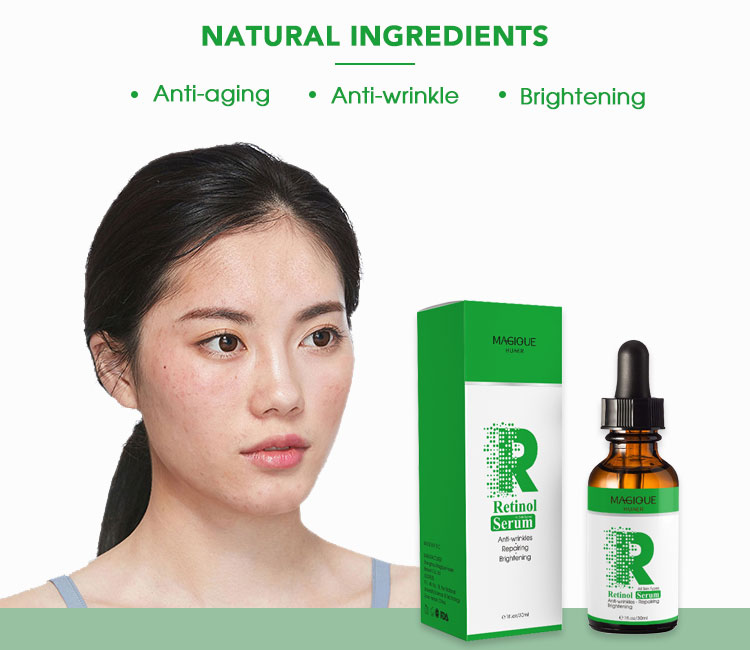 Skin aging is influenced by several factors including genetics, environmental exposure (UV radiation, xenobiotics, and mechanical stress), hormonal changes and metabolic processes (generation of reactive chemical compounds such as activated oxygen species, sugars, and aldehydes). All factors together act on the alterations of skin structure, function, and appearance.

Of course, we try to advise our customers to avoid light preservation when using Retinol, and please apply moderate strength sunscreen on your face after using Retinol Skin Care products. Promise me, no matter what kind of skin care products you use, please be sure to apply sunscreen. UV irradiation will stimulate the activity of melanocytes in the skin, at the same time inhibit cell regeneration, decompose collagen in the skin layer, aging skin, Remember the example of the truck driver? Yes, that's it. Ultraviolet light is the biggest killer of aging skin.
As well as their wrinkle-busting promises, retinol can help with uneven skin tone, texture, and pore size.
1.
Retinol is a form of Vitamin A, an ingredient that promotes skin renewal and enhances collagen production (which starts to decline in your 30s). As well as lessening the appearance of fine lines and wrinkles, retinol can also repair some of the side effects of sun damage.
2.
Retinol, or vitamin A, is best for 30+ skin with fine lines and wrinkles, however, you can start using retinol younger if you want to. Younger skin types may not see the effects as much as older skin types as they have fewer age concerns, however, prevention is better than cure. Retinol can enhance collagen production to prevent the formation of future lines and wrinkles. Combined with a high SPF and vitamin C in the morning, you are setting yourself up for great skin for life.
Retinoids have a different chemical structure that can make them gentler on the skin while still reaping the wrinkle-fighting benefits. The velvety texture of this retinol serum is light enough not to aggravate oily and acne-prone types but still hydrating enough to satisfy combination skin. For those with truly dry complexions, the sheer wear layers perfectly under a heavier cream.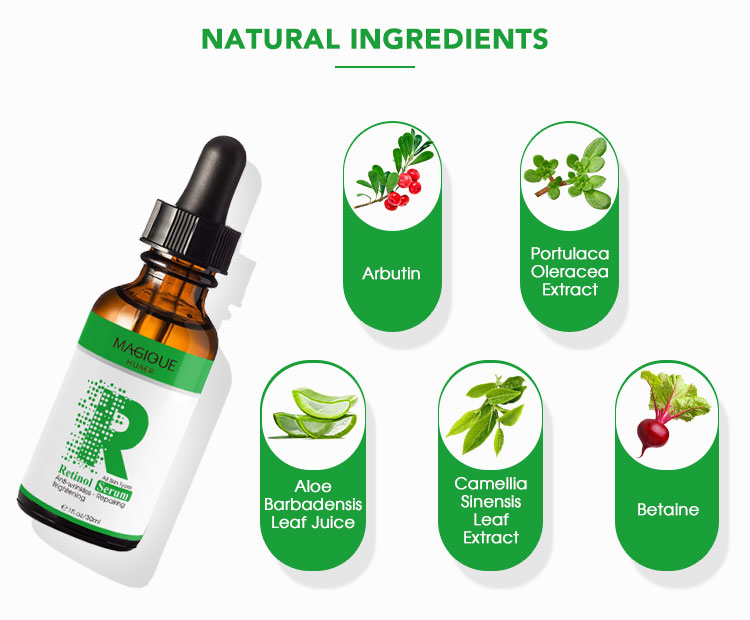 INGREDIENTS :
Water, Butylene Glycerin, Aloe Barbadensis Leaf Juice, Betaine, Portulaca Oleracea Extract, Trehalose, Tremella Fuciformis Extract, Arbutin, Camellia Sinensis Leaf Extract, Retinol, Triethanolamine, Carbomer, Dipotassium Glycyrrhizate, Sodium Hyaluronate, Sodium Polyglutamate, Phenoxyethanol, Ethylhexylglycerin.
FAQ:
1. What Certificate do you have?
we have ISO, GMPC, MSDS,COA certificates, and we work with many famous brands in the worlds.
2. Have your products been tested on animals?
No, all the ingredients and products have not been tested on animals.
3. Can we add additional ingredients to existing products?
Yes, but we need to confirm with our R & D department whether it is safe to add it.
4. Could you do FBA warehouse stickers and ship directly to FBA?
Yes, we have a professional team serves for Amazon customers.
Can do FBA warehouse stickers and send products directly to the FBA warehouse.
For product specifications and prices, welcome to inquiry