Wholesale 10% VC Pomegranate Serum Anti-aging Fresh Moisturizing Pomegranate Essence
With anti-oxidant ability, it helps to protect the skin. Gently detoxifies the skin while hydrating the skin, leaving the skin hydrated, plumped and glowing.
Description
pomegranate extract has anti-oxidant, anti-inflammatory and antibacterial effects. The active ingredients are anthocyanins, pomegranate polyphenols, and ellagic acid. These ingredients are very strong antioxidants, which can effectively delay skin aging, moisturize and anti-wrinkle. .
Delay skin aging: pomegranate polyphenols, anthocyanins, and ellagic acid are all strong antioxidants. The automatic oxidation of fats and oils is a free-radical chain reaction. A variety of oxygen free radicals can be generated during the reaction. These oxygen free radicals have High reactivity, combined with macromolecular substances such as lipids, proteins and DNA in the human body, destroying its structure and function.
Moisturizing: Hyaluronic acid is the main natural moisturizing component of the human body, and its decomposition is mainly catalyzed by hyaluronidase. Pomegranate polyphenols can inhibit the activity of hyaluronidase, thereby slowing down the decomposition rate of hyaluronic acid, thereby achieving a moisturizing effect.
Anti-wrinkle: Pomegranate polyphenols can react with proteins in the skin by hydrogen bonding and hydrophobic effects, resulting in astringent effect, that is, astringency. This reaction can tighten the skin and reduce wrinkles.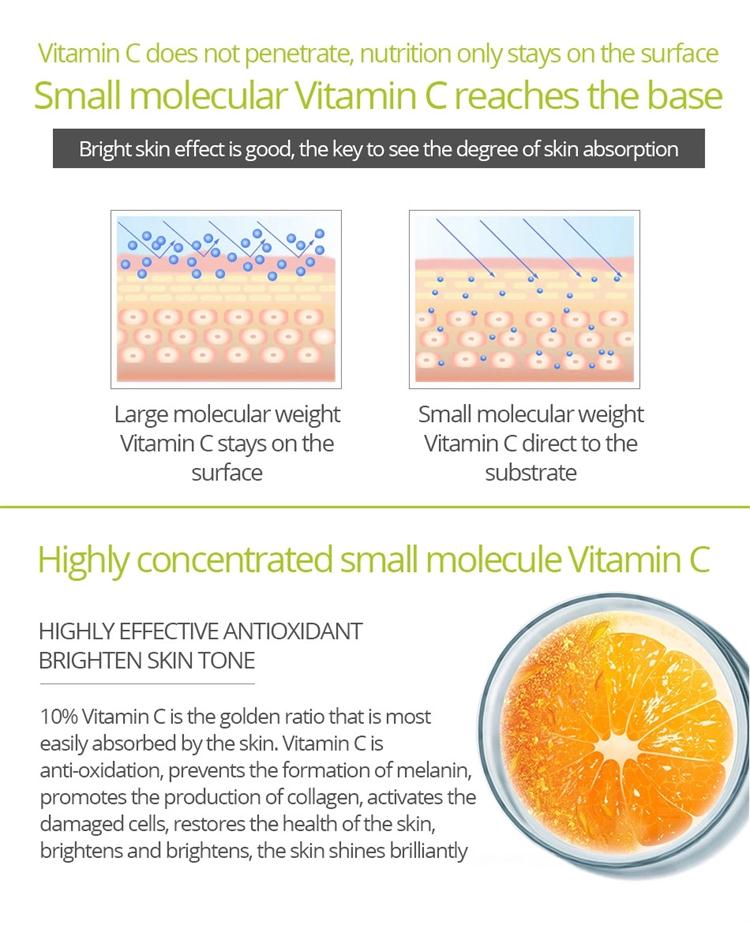 Product name
10%VC Punica Granatum serum
Private Label
according to your requirements
Size
30ml
Speciality
Safe and good quality of organic face serum with quality assurance
Main clients
1) America, Australia, Canada,UK,France, Dubai, Turkey, Russia ,Asia and South Africa.
2) cosmetics company, beauty salon and spa,online and offline store
Sample
Free sample is available,but we need charge freight.3-6 days sample-time
Payment
L/C,D/A,D/P,T/T,Western Union,MoneyGram,PayPal
Formula/Ingredients
WATER、ASCORBIC ACID、GLYCERIN、PROPANEDIOL、HYALURONIC ACID、PUNICA GRANATUM SEED OIL、THEOBROMA CACAO (COCOA) FRUIT POWDER、ALOE BARBADENSIS LEAF EXTRACT、EUGLENA GRACILIS POLYSACCHARIDE、HYDROLYZED COLLAGEN、CAMELLIA SINENSIS LEAF EXTRACT、SIMMONDSIA CHINENSIS (JOJOBA) SEED OIL、PINUS MASSONIANA EXTRACT、CITRUS RETICULATA EXTRACT、TOCOPHEROL、NIACINAMIDE、ARGININE、ALLANTOIN、XANTHAN GUM、1,2-HEXANEDIOL、HYDROXYACETOPHENONE、PSIDIUM GUAJAVA FRUIT EXTRACT
For product specifications and prices, welcome to inquiry