Wholesale Face Masks Brightening Moisturizing Anti-aging Pure Clay Mud Hydrating Mask For Glowing Skin
bulk skin care wholesale clay mud mask contains pure bentonite clay mud, can brightening and moisturizing your face. skin care manufacturer supply private label and dropship service.
Description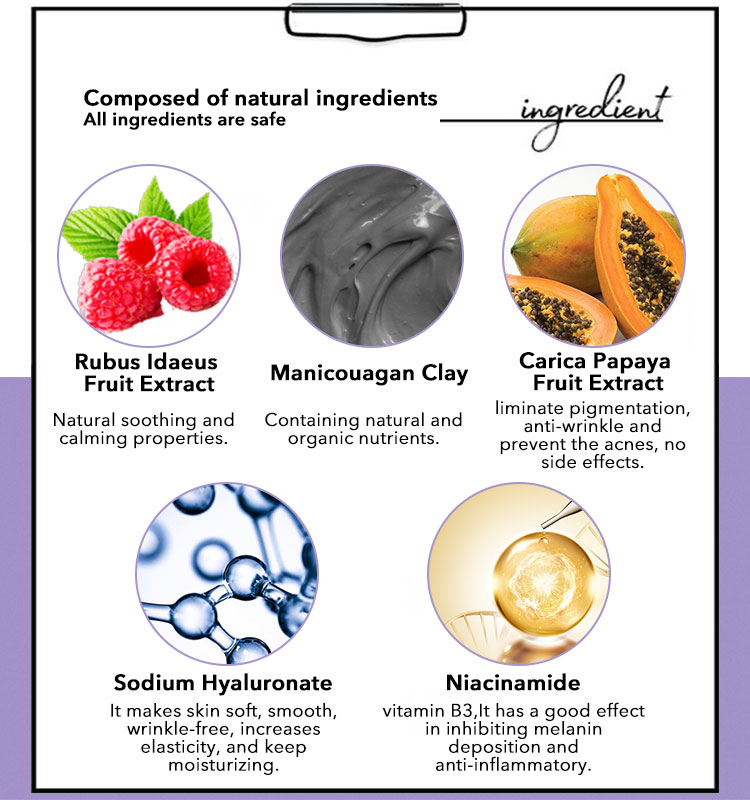 Main Ingredients:
Water, Manicouagan Clay,Glycerin,Kaolin,Cetearyl Alcohol,Ethylhexyl Isopalmitate,Rubus Fruticosus (Blackberry) Fruit Extract,Dimethicone,Glyceryl Stearate,Peg-100 Stearate,Propylene Glycol,Carica Papaya (Papaya) Fruit Extract,Cetearyl Glucoside,Lactic Acid,Niacinamide,Titanium Dioxide,Kojic Dipalmitate,Tocopheryl Acetate,Phenoxyethanol,Xanthan Gum,Ethylhexyl Glycerin,Sodium Hyaluronate,Aroma,Disodium Edta,Ci 51319.

RUBUS IDAEUS FRUIT EXTRACT: It has high permeability to the skin, can maintain the moisture on the skin, promote skin metabolism, inhibit skin inflammation, smooth and non-sticky
MANICOUAGAN CLAY: Based on the perennial frozen rivers of northern Canada, the natural isolation and accumulation of more than 1 million years make the glacial mud soft and silky, clean, containing natural and organic nutrients.

LACTIC ACID:Lactic acid, also known as propionic acid, is a kind of fruit acid. which can effectively remove fine lines and wrinkles.

CARICA PAPAYA FRUIT EXTRACT:The papain in papaya extract can gradually soften and dissolve the keratinized skin by promoting the removal of aging skin cells, accelerate the metabolism of the skin and body. Could eliminate pigmentation, anti-wrinkle and prevent the acnes, no side effects on the skin.

NIACINAMIDE:vitamin B3 is highly safe as a pharmaceutical ingredient and is a basic vitamin supplement in clinical dermatological treatment. Recent research has proved that it has a good effect in inhibiting melanin deposition and anti-inflammatory. Niacinamide can also greatly reduce or eliminate skin aging, reduce free radical damage to the skin, prevent aging, repair the skin and reduce facial dullness. Widely used in many famous brands like Procter & Gamble, Lancome, Estee Lauder.

TITANIUM DIOXIDE:It's very effective for whitening, because it is an inert mineral, it is inactive and therefore has good safety and does not cause allergic reactions.

SODIUM HYALURONATE:It can absorb 1000 times its own weight to achieve skin barrier by retaining skin moisture, preventing moisture loss and damage to the skin. It makes skin soft, smooth, wrinkle-free, increases elasticity, and keep moisturizing. So you will not feel dry but Your skin will be shiny. Using with other nutrients, it can promote the absorption of nutrients.

TOCOPHERYL ACETATE:The skin conditioner is also an antioxidant. It has a protective effect of preventing sun rays from damaging the skin.

FAQ:
Q: Can we get the sample for testing quality?
A: Yes.
Q: How long can I get the products?
A: Sample order—2 working days after payment.
OEM order—about 10-20 working days after design finished.
Q: Can you provide customization of the brand and packaging?
A: Yes, we have a professional design team. If you need it, we will be glad to design it for you.
Q: What is your minimum order quantity(MOQ)?
A: The MOQ is based on your different order and packaging choose. Please contact us for more details.
Q: What Certificate do you have?
A: We have ISO, GMPC, MSDS, COA certificates, and we work with many famous brands in the worlds.
For product specifications and prices, welcome to inquiry