Wholesale Private Label Skin Care Manufacturer 24k Gold Face Mask For Glowing Skin
wholesale private label skin care manufacturer supply 24k gold face mask for glowing skin, especially for dry skin, oily skin, combine skin, moisturizing and hydrating your skin, and help anti-aging the skin sagging, whitening and anti-wrinkle.
Description
With 24k gold face mask for glowing and smoothing skin, the luxurious anti-ageing face mask fortified with pure 24 karat gold to lighten, brighten and firm the skin.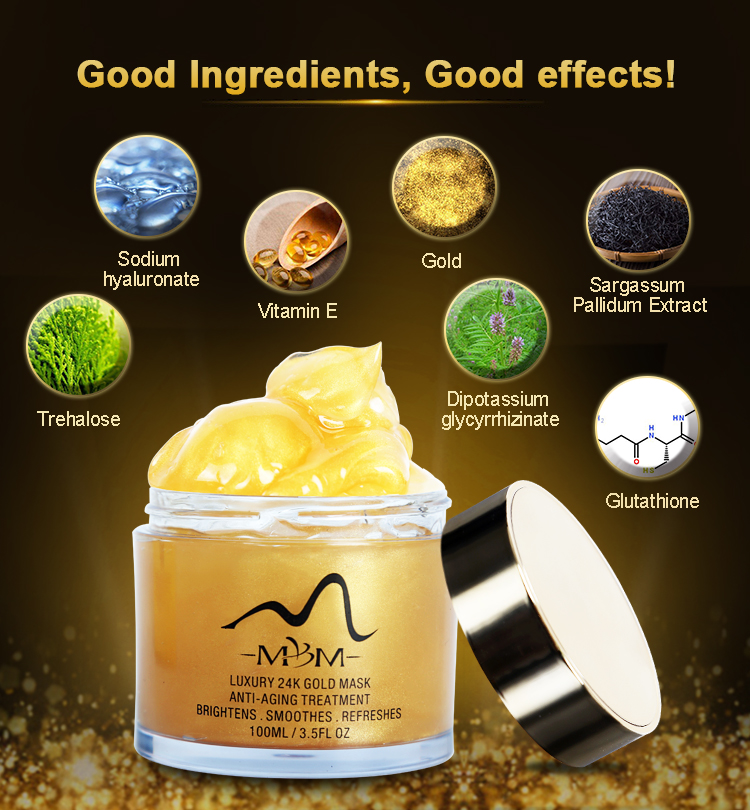 Helping reduce the appearance of fine lines and wrinkles, the innovative formula is enriched with a unique blend of effective ingredients, including colloidal gold which bestows a radiant glow on the skin, caffeine which lifts, tightens and firms and Peridot, a magnesium-rich gemstone that re-energizes and reduces stress-induced aging.
Deeply nourishing, the pampering mask delivers intense hydration with the addition of hyaluronic acid and glycerin, humectants that contribute to the plumping and lifting of unruly wrinkles. Expect silky smooth skin with a youthful, radiant glow.

Ingredients:
Glycerin, Propylene Glycol, Carbomer, Triethanolamine,
Tocopherol (Vitamin E), Trehalose, Sodium Hyaluronate, Dipotassium
Glycyrhizinate, Sargassum Pallidum Extract, Iodopropynyl
Butylcarbamate, Methylparaben, Phenoxyethanol, Glutathione, Gold.

Key Ingredients and Benefits:
Pure 24 Karat gold: imparts an opulent, radiant glow and locks in moisture and keeps skin firm by maintaining collagen in the skin and inhibiting the breakdown of elastin.
Hyaluronic Acid and Glycerin: humectants that plump skin and deliver intense hydration by attracting and retaining moisture from water in the air.
Vitamin E: Nourishing, immediately counteract damaging radicals to your skin and help remove the spots.
Vitamin E is directly involved in the redox process, thus inhibiting the activity of tyrosinase and reducing the formation of melanin. Vitamin E also has the function of dilating peripheral blood vessels and improving vascular microcirculation. it can promote the transport of nutrients and the excretion of metabolic garbage in vivo, which is also beneficial to the elimination of spots.
Sargassum Pallidum Extract: Moisturizing, whitening, and anti-aging.
The extract of Sargassum pallidum can effectively eliminate free radicals in vitro, antioxidant, resist skin aging, play an anti-aging role, and at the same time has a moisturizing effect.
For product specifications and prices, welcome to inquiry