WHAT IS 360 CRYOLIPOLYSIS?
360-degree full range of cooling and heating, freezing at minus 10℃ to positive 45℃ heating, 4 groups cycle modes for operation, parameters can be set flexibly; 8 pcs different sizes cryo handles are suitable for different size areas and body shape.
The latest method of frozen fat is a new method that is more effective than other non-invasive methods. A revolutionary idea of dissolving fat. Studies have shown that subcutaneous lipid rich cells can be selectively affected by cooling subcutaneous tissue to temperatures below 10 degrees celsius. Lipid rich cells can be affected by rupture, contraction, damage, destruction, removal, killing, or other changes. Without theoretical limitations, it is believed that the high selectivity of lipid rich cells is that they do not induce crystallization in non lipid rich cells, and that highly saturated fatty acids are locally crystallized. The crystals break into double membranes rich in lipid cells, which selectively cause necrosis of these cells. Therefore, it is possible to avoid the damage of non lipid rich cells, such as dermal cells, at the temperature induced by crystallization in lipid rich cells. Through the local cold exposure induced by stimulation of the sympathetic nervous system, increased lipolysis.
MAIN EFFICACY
1、Remove the waist, abdomen, legs, arms, back and other parts of fat;
2、Solve cellulite problems caused by cellulite and cellulite;
3、Firming tissue to prevent relaxation;
4、Promote metabolism and blood circulation


HIGHLIGHTS
◆ Independent power supply control operating system, running more stable and safer;
◆ Intelligent identification of the induction socket, insert the wrong accessories automatically alarm prompts to avoid mistake;
◆ The freezing head is made of soft silicone material, and the experience is more comfortable;
◆ After the cooling system starts or stops, it will automatically circulate water for 1 minute to ensure cooling and Heat dissipation;
◆ Real-time environmental dynamic temperature control monitoring under the working condition of the freezing head;
◆ The refrigeration module adopts the frost-proof safety module and automatically thermostats;
◆ The water cooling module uses a high-flow water pump to ensure that the water cooling efficiency
◆ The water pipeline adopts a series system. When the water circulation is abnormal, it can automatically stop working to ensure safe operation.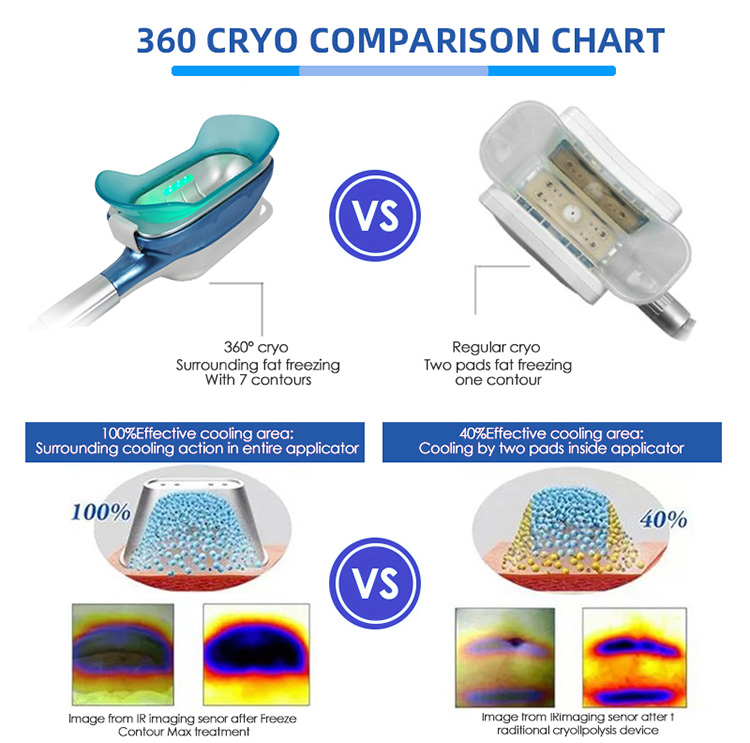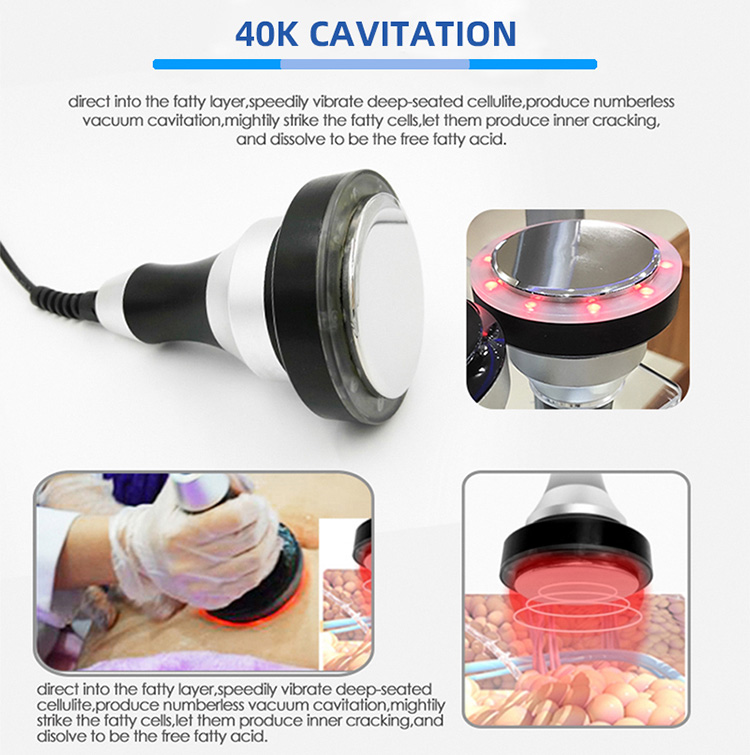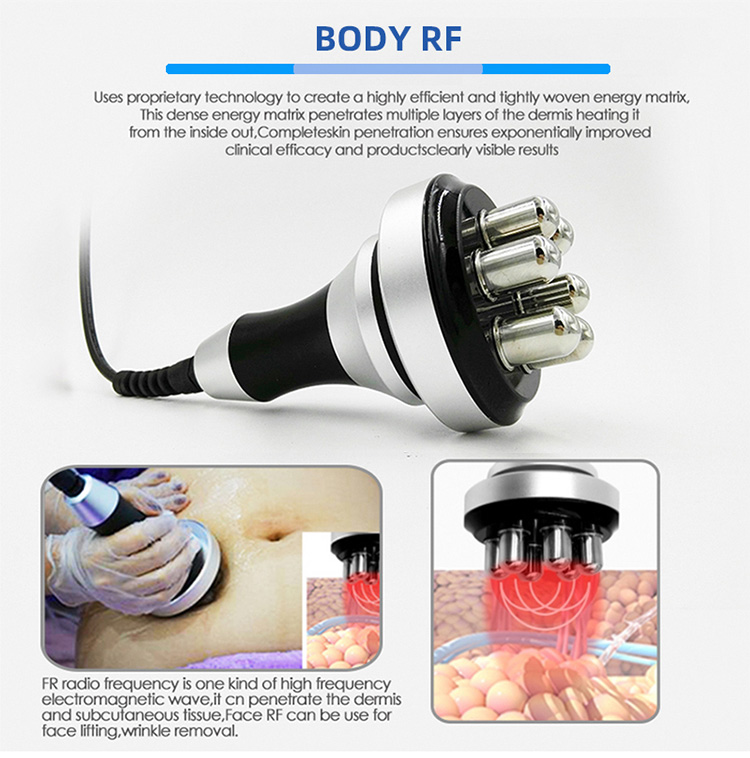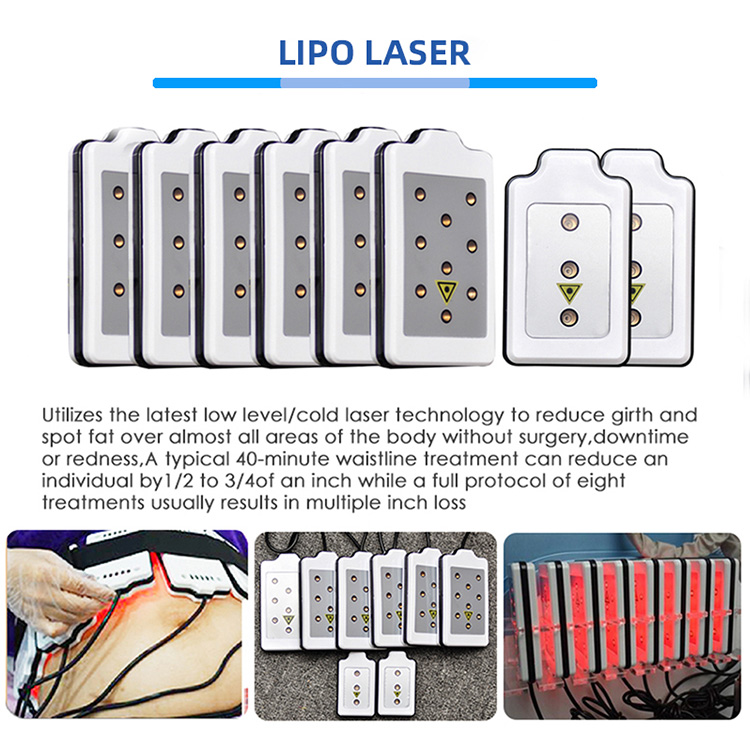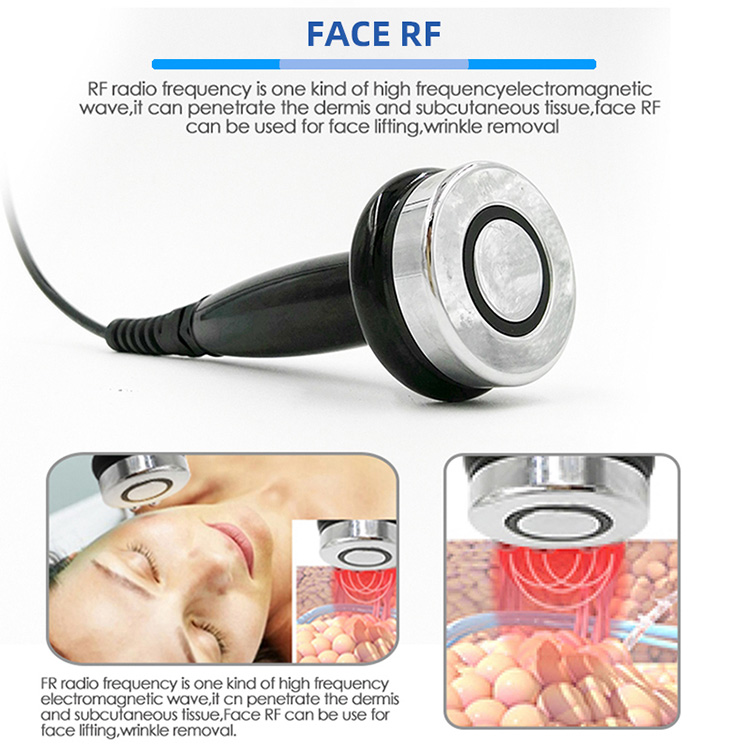 TECHNICAL PARAMETER
| | |
| --- | --- |
| Power supply mode | AC220V±10% 50HZ/ AC110V±10% 60HZ |
| Rated power | 800W |
| Negative pressure | 0-80Kpa |
| Cooling | -10 to ~+45℃ |
| Laser power | 100mw/pcs |
| Cavitation frequency | 40KHz |
| RF freequency | 5MHz |
| Cryo Quantity | 5 pcs |
| Coolant | Purified water or special coolant Ambient |
| temperature | 5℃-40℃ |
| Relative humidity | ≦80% |
| Touch screen | 10.4 inches |
| Machine size | 62*46*170cm |
| Packing size | 110*81*65cm |
| GW | 71kg |