Product Description
| | |
| --- | --- |
| Name | IPL Hair Removal Device |
| Model Number | AD-BTM05 |
| Function | The Permanent Painless Laser Hair Removal for Women Men |
| Light source | IPL |
| Adjusting gear | 5 gears |
| Power Supply | Electric |
| Power | 36W |
| Material | PC+ABS |
| Flashes number | 50W Flashes |
| Input Voltage | 100-240V |
| Model switch | 3s |
| Certification | CE ROHS ISO |
| Light Area | 4 square centimeter |
| Type | Laser |
Ipl hair removal device at-home permanent hair remover upgraded to 990,000 flashes painless laser hair removal for women and men facial whole body home use with 2 modes and 5 levels.
Permanent IPL hair removal for women with 990,000 flashes that enough for 11-15 individuals' whole body hair removal, and individuals can use it for up to 22-25 years.
This facial hair removal is designed as a non-removable flash head to avoid the risk of light leakage and loose contact.
Permanent hair removal for women is available to remove hair on the face and body parts.
Usage Frequency
◒1-4 weeks - 2-3 times per week.
◒5-6 weeks - 2 times per week.
◒7-8 weeks - 1 time per week.
◒More than 8 weeks - 1-2 times per month.
Energy Level
◒It has 5 different energy levels to adapt to different skin sensitivities.
◒From 1 (Lowest) to 5 (Highest) can be adjustable, please choose the level according to your needs. The higher level, the greater strength, the better effect of hair removal.
◒For the first use, recommended use level 1
Dynamic Cooling System
Special ice-cold technology cools the treatment area rapidly and protects the skin when you do the hair removal, relieving the pain/redness and shrinking the pores so that you can enjoy the silky skin and comfortable feeling.
Skin Tone/Hair Color
●Applicable skin color: White, Ivory, Beige, Light brown.
●Applicable hair color: Dark Brown, Black, Light brown, Medium Brown.
●Not applicable skin color: Medium Brown, Dark Brown, Black
●Not applicable hair color: White, Grey, Red, Light Blonde
Two-Mode
●Two modes of design can satisfy your demands on different hair removal parts.
●The MANUAL MODE(Flash Mode) is mainly used for small area hair removal, such as bikini line, armpit, fingers, lips;
●AUTO MODE (Slide Mode) can be used for large hair removal areas, such as arms, legs, stomach, and back.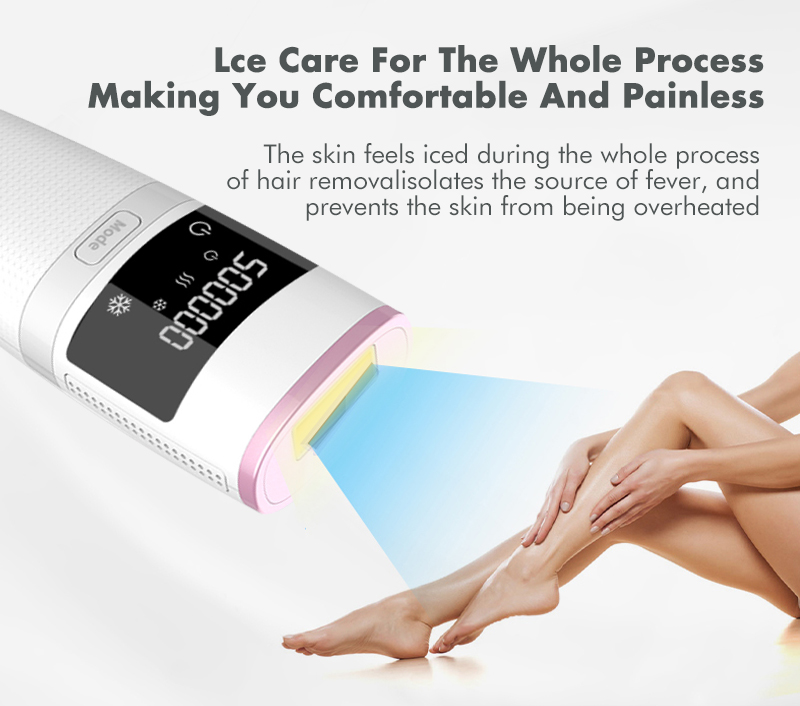 Intense pulsed light (IPL), or pulsed intense light, is a broad-spectrum light formed by focusing and filtering a high-intensity light source. Its essence is an incoherent ordinary light rather than a laser. Scientists have researched that the spectrum width of intense pulsed light is effective for hair of different thicknesses and colors, which is a significant advantage over other laser hair removal devices. The intense pulsed laser can effectively enter the depths of the hair follicles and has a wide range of wavelengths, which can cover the 500-1200nm wavelength band and can effectively cope with the hair conditions in various situations.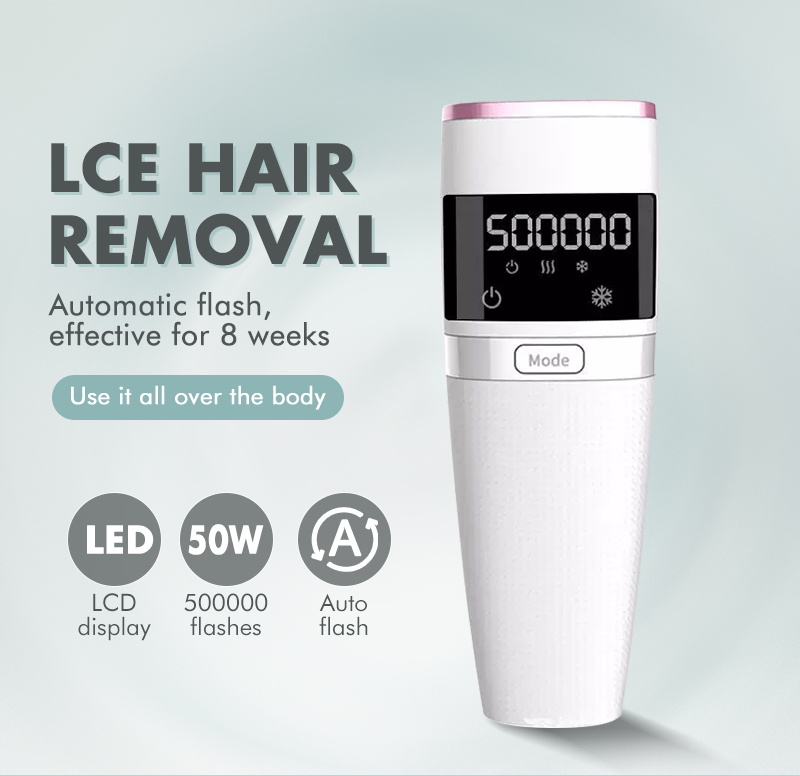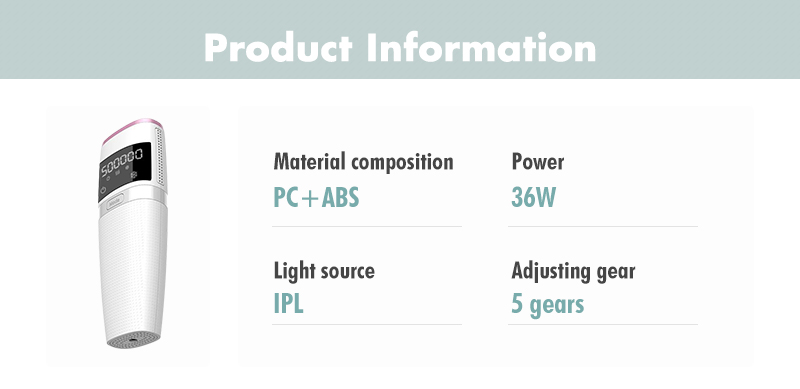 1. A total of 5 levels of light are configured. If you want to switch the light intensity, just keep pressing the switch. There is no need to care too much about the relationship between skin color and light intensity because it is equipped with automatic skin detection technology, which will automatically switch between different energy.
2. Skin rejuvenation technology, replace the filter head, use the light, promote the activation of skin collagen synthesis, promote skin metabolism, remove skin spots, not only remove hair but also make the skin that passes through more delicate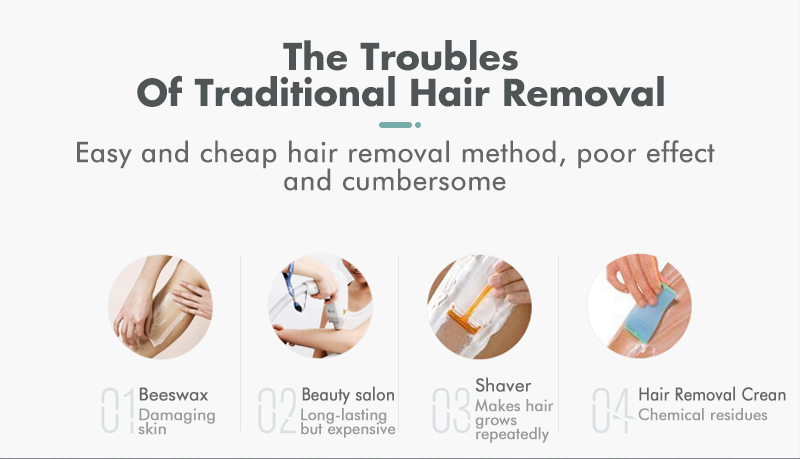 Hair removal is not something that is done once and for all. Our hair has a dormant period, and we need to remove it regularly to achieve the desired results. In addition, always pay attention to hydrating and skincare, and remember to apply cooling and soothing lotion and sunscreen after hair removal. You can eat more fruits rich in vitamin C to improve skin resistance and reduce pigmentation. After depilation, the skin is more sensitive and prone to inflammation. It is recommended to wear clean, comfortable light-colored cotton underwear.
How to use
Step 1. Before using this depilation device, please use the stripper to shave the hair in the epilation area.
step 2. Connect the power cord to the power socket of the ipl hair remover.
step 3. Wear goggles to protect your eyes.
step 4. Long press the switch for 3 seconds, the display light will turn on, short press to select the appropriate gear, ipl hair removal can be used normally.
step 5. Place the product vertically on the skin and press the flash button to start hair removal. No more than 3 consecutive epilations at the same location.
step 6. After finishing, apply some lotion to moisturize the skin.
Factory strength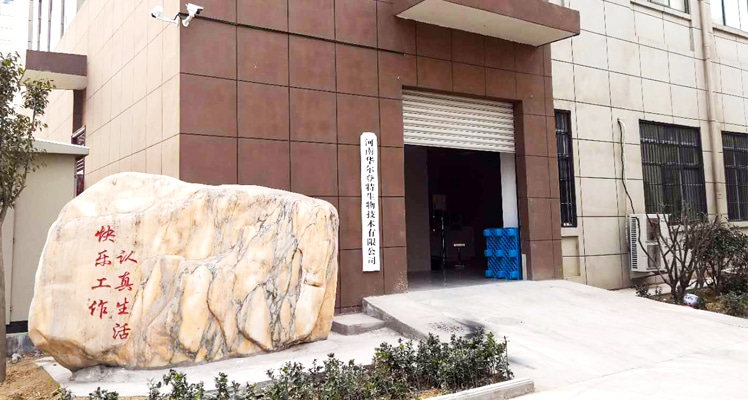 Established in 2006, with 15 years experience in OEM and ODM skincare products. In addition, We have obtained ISO and GMP certificates. Our factory and quality control strictly follow the quality standard of ISO22716 for cosmetics. For OEM services, we will provide professional free brand. consulting services. For ODM services, we own a high-tech R&D team with10chemical & biomedical engineers and a 10000-level laboratory.
We specialize in natural+scientific+vegan skincare products for European and American brands
Why choose us
---High R&D Ability
| | |
| --- | --- |
| | |
| 10000-level laboratory | high-tech R&D team |
---Great Production Capacity
Ensure Short Lead Time
10 full-automatic skincare
production lines

High-end advanced facilities
200 skillful workers
and expertise staff
GMP&ISO standard approval
factory covers5000
square meters

Certification
Packing & Delivery